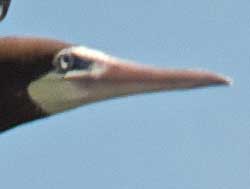 The Pacific coastline of Mexico along the area of Huatulco offers many interesting views of large birds that are common to the area.

George took most of these photos from the verandah of our stateroom; we were in Huatulco for two days so there were many opportunities.

Most birds than we've ever seen here before!

All along the beach near the cruise port at the many restaurants within walking distance.

Best to sit inside the restaurants where the signal is better, but some restaurants will hand your a card with the password just for the asking as you walk along. There are benches along the shore.