Puerto Quetzal, Guatemala



Puerto Quetzal, Guatemala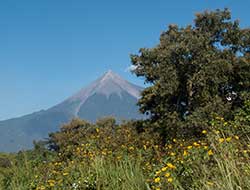 Puerto Quetzel is Guatemala's largest Pacific Ocean port. The nearest city is Puerto San Jose; Antigua, another popular destination in Guatemala, is about 90 minutes away.


Adventure, Shopping, and Sightseeing in Guatemala

In Guatemala we looked forward to zip-lining at the Filadelphia Coffee Plantation and to shopping in the portside market where I wanted to purchase an extra or two of a very useful iPhone bag/wallet that I first obtained here a couple of years ago. An Antigua stop was part of the zipline adventure.

There is a separate page for each of these activities; look in the menu bar under "Puerto Quetzal." The photos on this page are of scenic views along the routes traveled to reach the coffee plantation and Antigua.

HAL Shore Excursions

In a single-day stop, we wanted a zipline opportunity that was both safe and possible in the limited time we had. Nothing is really very close to this port.