Leon, Nicaragua: Botanic Gardens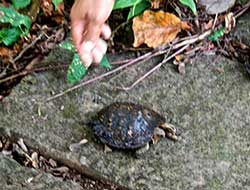 Address:

Jardin Botánico Ambiental
Universidad Nacional Autonoma de Nicaragua-Leon
Facultad de Ciencias y Tecnologias
Leon, Nicaragua


The Botanic Garden tour was well-done; it seems fairly new and is laid out in a way to highlight various agricultural zones, such as river botanics, succulent garden, humidity-seeking plants, desert plants, etc. The walk through it is billed as 2.25 miles, but it didn't seem that long to me. The path is mostly paving stones of varying sizes; it might be difficult to navigate for some with mobility challenges. There are a few short path areas made of only of dirt and rock construction. There was a very large convention of mosquitoes meeting in the Garden when we arrived and they were certainly on the attack, even with huge amounts of DEET that I had covered myself with. However, their "bites" didn't last; never got to the itching and bumpy stage so I think the repellent was effective and most people were not that bothered.

The tour was billed as well as a "butterfly garden" and I'm sure at times that's accurate but this isn't the butterfly season and only a relative few were seen. Those that I did see were colorful; it would be nice to have seen more of them.

More information about Leon, and our travel from Corinto to get here is on the Leon page; check the menu bar under Corinto.

Mosquitos 3, Marney 4

A few bites, despite the DEET, but I think I barely won this one. The pesky things got me when we first arrived at the Gardens, but even more DEET slathered on, and I seemed to come out ahead.

HAL Shore Excursions

Butterfly Gardens and Leon

We're heard good reports about this tour source: Julio Tours of Leon