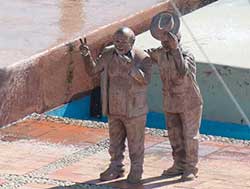 This well-known Mexican city is located on the Bahía de Banderas. It's the second-largest city in the state of Jalisco. Puerto Vallarta is named after Ignacio Vallarta, a former governor of Jalisco.


The Christmas Season in Puerto Vallarte

We've been here several times before and didn't want to do any sightseeing today. Instead we walked over to the large mall across the street to enjoy their Christmas decorations and to use the wi-fi at Starbucks. Many people were picking up cabs in front of the Mall, probably to go downtown.

Mall stores include a large Wal-Mart which will take American money, but any change will come back in Mexican currency. Prices are generally shown in both currencies. In the mall next door a wide variety of stores can be found; many are the standard American mall offerings, and there are Mexican-owned stores as well. It's an attractive, well-maintained shopping area.

The road that must be crossed to get from the cruise port to the shopping center is very busy; lots of traffic, but there are traffic lights with a walk light that is ample to cross the street while the pedestrian light is on.

Gallaria Vallarta Mall

Starbucks, second floor, in the Mall across the street from the cruise port. A purchase will get you the code on your receipt; we found it to be good for about an hour and a half before the code expired. So, if you want another coffee and want to stay longer than about an hour and a quarter or so plan to get the coffee close to when you expect the first code to expire for maximum internet value.