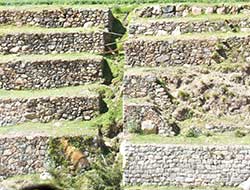 Located in southeastern Peru, near the Urubamba Valley of the Andes mountains, Cusco was the historic capital of the Incan Empire. As the gateway city to Machu Picchu is is a major tourist area and is a World Heritage Site in its own right.

Coscu: Gateway to Machu Picchu

Those planning to visit Machu Picchu will fly here and overnight before the train journey to Machu Picchu. This area also features interesting relics of past Incan civilizations.
Airline and Hotel Loyalty Program

Bring your membership numbers! You won't need the cards—at least that wasn't my experience—but my status with American Airlines granted me preferred boarding status and my hotel, like most in the area, participates in various hotel loyalty programs so I got those points too, for my two-night stay, even though my tickets and reservation were handled through the Shore Excursions Desk.
—George

HAL Shore Excursions

3-day shore excursion