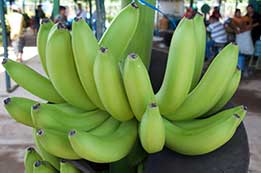 The port of Chiapas is close to the mouth of the Suchiate River—the boundary between Mexico and Guatemala. The nearest town to the port is Tapachula.

A fascinating, memorable visit

Our time in this area was spent visiting a rural agricultural co-operative which includes a banana plantation as its primary industry, a local public school, at least one church, and quite a few homes. Details of our tour are found on the 3 tour pages that accompany this page; they are linked above in the graphic under the slide show or in the menu bar, under the Chiapas heading.

We would enjoy this tour again; I'm sure it would be different at each visit.

The Sunset

Once again we were treated to a magnificent sunset on the evening that we sailed away from Puerto Chiapas. We love our starboard cabin which allowed us beautiful sunset views all the way along the outbound part of this trip, and once again, we could enjoy the view as we enjoyed food out on the verandah.

HAL Shore Excursion

A good choice here; the selection we made (Banana Plantation) seems, judging from many reviews online, to only be available as a ship-sponsored excursion, and most cruise lines seem to offer it.