Trujillo Archaeology: Luna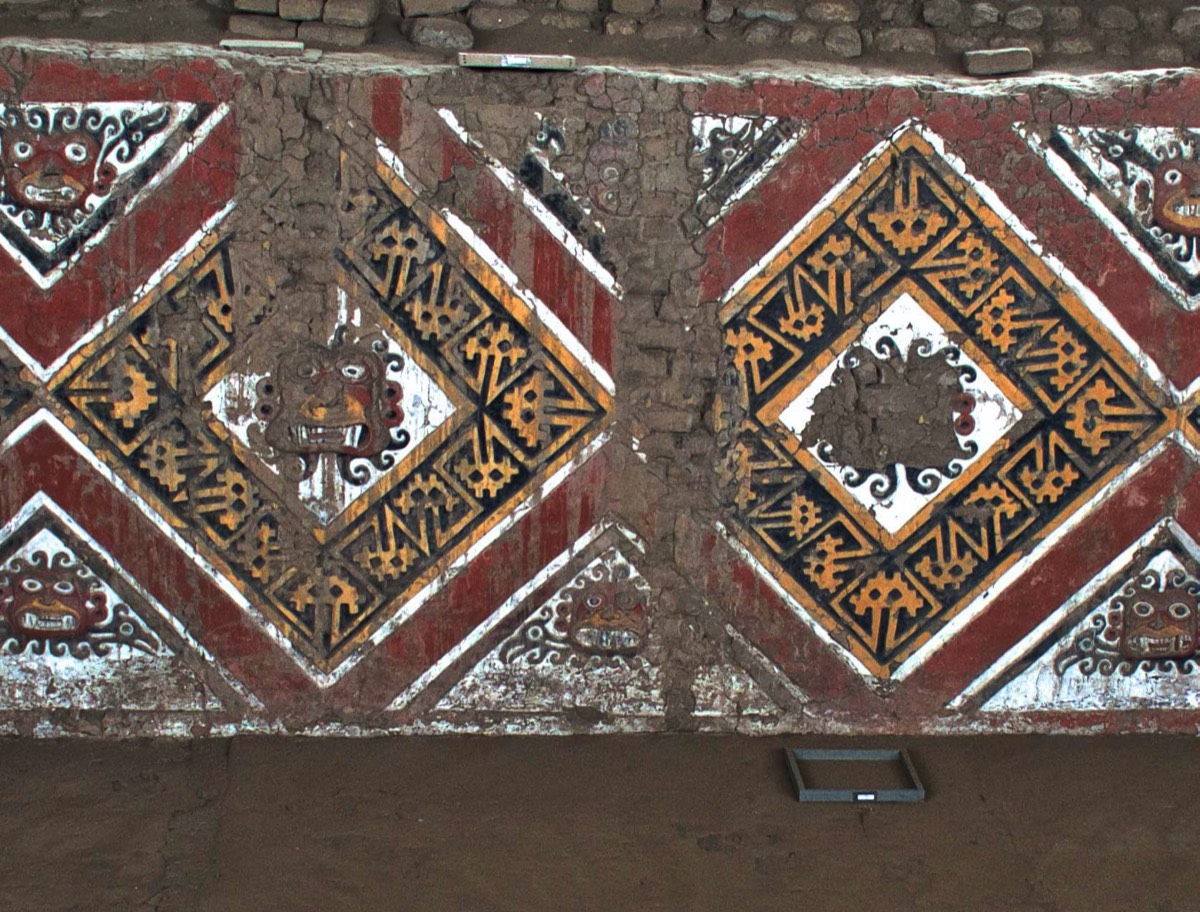 The Huacas de Moche site is located 4 km outside the modern city of Trujillo, near the mouth of the Moche River valley. The Huaca de la Luna, though it is the smaller of the two huacas at the site, has yielded the most archaeological information.

The third of the Trujillo archaeological sites

The Temple of the Moon was indeed reached by navigating very narrow streets of a village which, since it was a Sunday, had its own congestion problems as many people were visiting relatives, little restaurants, a public park (also, through an archway I saw a playground and swimming pool with many children enjoying both) and most seemed to have driven there, judging from the cars parked along the road. We were happy to have a skilled bus driver and a medium-sized bus! Eventually, after clearing the village, the bus took us along routes of fields and walled farming plots, ending eventually at the Temple of the Moon. The unavailable Temple of the Sun wasn't far away, but in general, the feel of the area was "out in the middle of the field." Which led to this totally unexpected opportunity: people made their way back to the bus after the temple tour sort of at their own pace, and I happened to be one of the first back. I opened my iPhone to read one of my guidebooks that I have on the phone for such purposes and the bus driver came back to ask in a mixture of Spanish and English if I wanted wi-fi. I'll never turn that down! He made a phone call and within seconds, I had a good, high-speed connection. Maybe not the safest; there was no password, but someone turned it on for him so it wasn't a public site, and I don't keep anything sensitive on my phone anyway. But out in that rural area it was the last thing I expected!

Check the wikipedia.com listing for more background information, or one of the other many online references.
Unexpected wi-fi at Luna

ou never know where wi-fi might be available. As people drifted back from the ruins, I pulled out my iPhone to read my travel notes about this location. The driver said he could provide wi-fi if I wanted it and of course I took him up on it. He made a phone call, and suddenly, right out in the middle of a field, there was a really strong signal.

HAL Shore Excursions

This visit was a segment of the Trujillo Archaeology Tour


In the field at Luna

Please see the "serendipity" listing above.