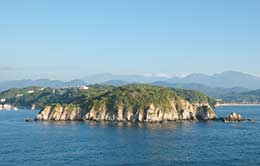 Huatulco is a tourist development that is within 2-3 miles of the little town La Crucecita. It's a reasonable walk between the two, along nicely-landscaped streets and center-street walkways. The Huatulco area contains nine bays and all are delightful to see.

Our port call at Huatulco was an overnight, so we had the better part of two days to enjoy the area. We'd been here before and had toured the areas around the nine bays, so this time we opted to walk to La Crucecita on the first day and spend the better part of the late morning/early afternoon there. The heat was oppressive by the time we were ready to leave and although the walk isn't far, about 2 miles, we used a local cab for the return. The cost was $2 USD although others we spoke to paid $3, probably because they needed a cab at busier times of the day. The town of La Crucecita is quite photogenic.

The next day we enjoyed the ship and the local restaurants that line the beach area just adjacent to the area where the ship docked. The one we visited, Dona Celia's Lobster House, has an excellent signal once you are seated inside the covered area, but the staff was distributing cards with the needed passcodes to passers-by, so there must have been an acceptable signal from the benches area between the restaurant itself and the beach. The food was excellent here as well; we had chips and salsa/guacamole platters and bottled drinks.

Sunsets! Breezes!

We were in Huatulco for two days, so we were still in port for sunset on the first day. We had appetizers and dinner served to us on our verandah where we enjoyed the wonderful breezes while entertained by an ever-changing panorama of a lengthy, gorgeous sunset. Our verandah was perfectly placed; a lucky bit of serendipity indeed!

Local taxi service

We've been here before and had seen the surrounding countryside, so for this visit, we walked everywhere, including a visit to the lovely little town of Crucecita, a couple of miles away. While the trees along the way provided shade, it was still a very hot walk, so we grabbed a local taxi back to the ship. The charge: $2 USD

Shoreside Restaurants

For both a snack and the internet we liked Dona Celia's Lobster House, at the very far end of the row of restaurants along the beach right near the ship. Look for the flags at the far end of the row; the restaurant extends across several buildings. The proprieter handed us a card with the access code when we inquired about the strength of the signal before we bought anything, but the reception is much better inside the open structure, at a table. We enjoyed guacamole and chips, along with bottled drinks while we used the internet.